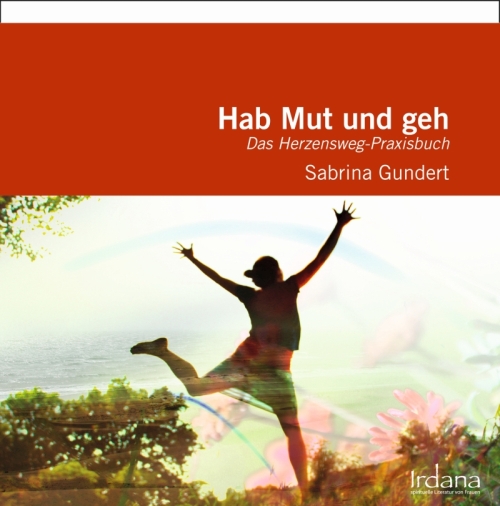 Hardcover, 124 pages
With guided meditations and guided imagery visualizations to download
ISBN 978-3-9813609-9-8
Irdana-Verlag, 2014, 2nd edition 2018
Reading Sample (in German)
Many of us desire to follow the call of our hearts and to pursue our own path. You can take my Follow Your Heart Workbook and start your step-by-step journey to realize your wishes and dreams.
Take Courage and Walk combines profound as well as practical thought-provoking texts, inspirations, and exercises about many topics that we encounter on our life's journey, including longing, joy, challenges, transformation, and silence.
It is a book not only to be read but also lived. And it shows: it is never too late to take your first step to follow your heart's path!
That is what readers say:
Dear Sabrina, many thanks for this wonderful book! It travels with me, even if my suitcase already weighs 18 kg, and I am on the road for more than 12 hours. It is really wonderful and very important for my daily dose of courage. It helps me to have a clear head when I have the feeling to lose myself in my plans and worries. Thank you for your clear, straightforward, and touching words. It is a small medical emergency kit for the soul, when you are sometimes about to lose heart!
Sabine
Dear Sabrina, I received your book yesterday. It is such a lovingly assembled interactive book which touches, moves, and motivates me. It helps me to regain my faith that it is possible to follow your heart's path. Thank you for this great book. I am reading it enthusiastically. Heartfelt greetings from Berlin.
Tina

You can order this book in any bookstore.
Wishing you much joy when reading it!